We are Here to Help Make Your Next Career Move the Right One
Mulberry Talent Partners is a leading employment agency. We are deeply committed to partnering with you to lead to a successful career placement where you will fit and thrive. We work closely with you to identify core professional strengths, career progression goals, and what matters most in your next role. Our job opportunities include direct-hire, temp-to-hire, temporary, and contract roles.
We Place Candidates Like You in the Following Professions
Administration & Operations 
Executive Assistant
Office Manager
EHS & Safety
Operations Manager
Project Manager
Administrative Assistant
Chief Operating Officer
Marketing & Events
Office Administrator
Supply Chain & Procurement
Chief Financial Officer
Accountant
Controller
Financial Analyst
Payroll
Accounting Clerk
Accounting Manager
Accounts Payable
Accounts Receivable
Cost Accountant
Director of Finance
Financial Planning and Analysis
Senior Accountant
Senior Financial Analyst
Chief People Officer
HR Generalist
Compensation
HRIS
Talent Acquisition
Chief HR Officer
VP of HR
HR Business Partner (HRBP)
HR Director
HR Manager
HR Coordinator
HR Assistant
Benefits
Compliance
Diversity Equity & Inclusion
EHS & Safety
Employee Relations
Leave of Absence
Payroll
People and Culture
Recruiter
Sourcer
Total Rewards
Training and Development
What our candidates are saying
Jodi P., Happy Candidate
You know I could go on for hours gushing about Mulberry, each of you, and your team….but really – you all are amazing, and such a delight to work with. I truly appreciate your trust in me, and all the support/opportunity you've given me for the past couple years. I will always highly recommend you!
Marlen L., Happy Candidate
I am writing to express my deepest gratitude for the opportunity to speak with you about Mulberry Talent's philosophy and for the genuine empathy you showed when we discussed my previous experience with layoffs. Your understanding and support during our conversation meant a great deal to me.
Alex F., Happy Candidate
I appreciate the two-way communication and perspective you shared as I contemplate my next step. Mulberry isn't just focused on filling a job. Thank you for listening and being genuine.
Payroll Analyst, Happy Candidate
Everything is going very well with my new company. They've been the best employer I have worked with in my payroll career. I'm so grateful for the opportunity you helped me with.
Tina, Payroll Specialist
[Mulberry] literally helped change my life in such a positive way and I will forever be grateful [they] recommended me [for the] Payroll Specialist position. I absolutely love it here and look forward to spending several years growing with this amazing company. I absolutely love it here and look forward to spending several years growing with this amazing company and team. Thank you, thank you, THANK YOU!
Anuja S., Happy Candidate
Lauren Francis has been my rock support ever since I started my career here in the U.S. She has been there to celebrate my success and gave me a patient ear when I was struggling! We've spent hours dissecting, discussing the pros and cons of job offers and letting them go if that is what is needed. Lauren shares perspective keeping in mind the long-term goals; she strengthens her arguments by sharing her own experiences and vulnerabilities. Having Lauren in life is like having that guardian who always shows up when needed. 
Jodi S., Happy Candidate
I just wanted to send [Mulberry] a HUGE thank you for this amazing opportunity. I'm beyond excited and feel like it's going to be such a great fit- and so perfect being remote! I feel like it's too good to be true. I have to say (again) how impressed I am with [Mulberry]. Your connections and partnerships are so impressive, and I just truly appreciate your support and trust in me. I will continue to spread great things about Mulberry, to say the least!
Happy Candidate, Director of HR
Lauren, thank you so much for having my back and supporting me in my pursuit for my next HR position. It really meant a lot to me. Especially, when you would call just to check in.
Kaitlin S., People & Culture Manager
I had such an amazing experience working with Mulberry and felt understood, listened to, and supported. The role I was matched with is a perfect fit in terms of culture and work which were priorities in my search. I've been actively referring anyone I know to Mulberry and sharing how great my experience was working with you all from start to finish. I will absolutely work with Mulberry in the future although I don't see myself leaving my current role/company for a very long time.
Jared S., Director
I am happy to share an update on my job search – it was successful! I'm starting as the Director of Technology at a company based out of MN on Monday. It feels like a great move for me, and I'm super pumped to start. I found this opportunity thanks to you introducing me to your colleague who owns another agency that was a better match for my skills set who in turn introduced me to a great Recruiter who pushed me for this role. I am incredibly grateful to you for taking the time to talk with me when you did, it was during a particularly difficult time for me and your graciousness with your time and network will never be forgotten by me. Thank you so much.
Our leadership team has over 38 years of experience in the Pacific Northwest's HR and recruiting market. We've tried different approaches, and when we provide consistent top-priority service we turn great matches into long-lasting relationships.
The Introduction
The first step in the Mulberry Method is getting discovered! Whether you find us through word of mouth, a professional event, or one of our job postings online, we're happy you've found us! You'll connect with a Talent Acquisition Partner from our team. We want to know where you've been, where you want to go and what your skills and passions are.
Making The Match
It's time to begin the job search! We'll provide you with our coveted toolkit, which many of our job candidates have described as a game changer in finding new employment. We'll also begin presenting jobs to you we think would be a great fit for your wants, needs and skills.
Keeping in Touch
Whether we place you in your dream job or you find an opportunity through another resource, we'll keep you in our network and connected to on-going career support. Our investment in you is a long-term one and we're happy to have you as part of our Mulberry Talent Partners community.
Ace Your Next Virtual Interview
Virtual interviews can be a little nerve-wracking, but we have all the tips to help your confidence shine through the screen. Look no further than our Virtual Interview Guide to learn how to build rapport through the screen and get invited to the next round!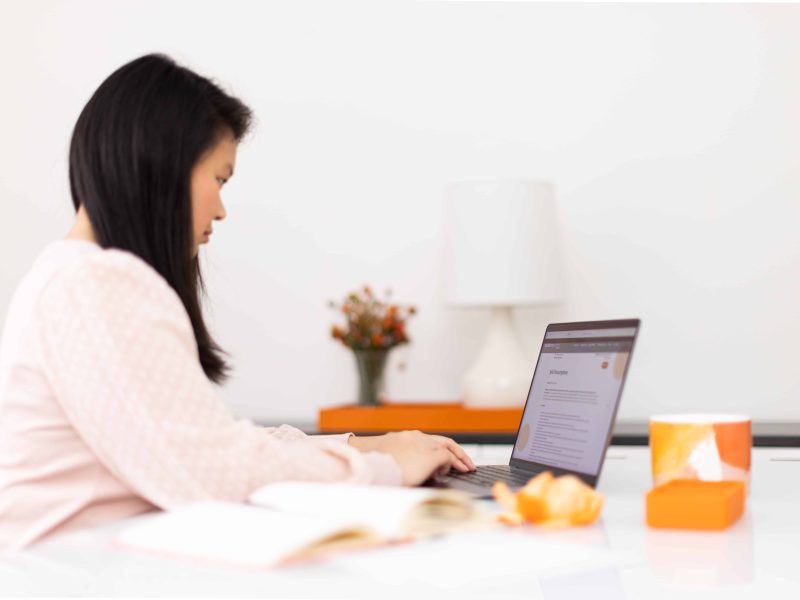 Find Your Next Opportunity