Have you ever explained an employee benefits package to someone and noted a blank or glazed-over expression signaling that they've mentally checked out of the conversation? Jill Freeman, a seasoned Employee Experience Consultant, started getting creative with her communications when she saw employees were wary of the examples on a whiteboard and lectures. First, she tested printed pieces and then transitioned to digital content that was more intuitive and easier to share.
While employee benefits communication may not be exciting, clear, helpful communication that's easy to understand helps build trust in the HR team. In addition, it enables you to position yourself as a valuable resource, especially when employees are working remotely.
Here are some highlights from our Leadership Conversation with Jill on designing compelling and exciting employee benefits communication.
Obstacles to Creating Engaging Benefits Communication
Sharing multiple messages to different audiences can create a complex communication challenge.
Here are just a few of the challenges Jill mentioned during our conversation:
Content can be uninteresting and dry
Employees are bombarded with disparate messages
Legal guardrails
Employees digest information in different ways
Families are a big part of the benefits of communication
Many health plans are complex and full of jargon
Employee health care and benefits experiences are unique
Begin With Values and Internal Branding
As new employees become a part of the team, they get to know your organization on a different level. Employee benefits communications, recruiting, and onboarding materials play a significant role in this shift, so stick to the brand guidelines and company values your marketing team uses to create consistency. Looking at it this way, it's like the employee experience starts before being hired.
Design Thinking Insights
You'll need to get creative to meet all the challenges mentioned above while creating the right messages for employees and their families. Jill's process is inspired by design thinking, which Tim Brown defines as "a human-centered approach to innovation that draws from the designer's toolkit to integrate the needs of people, the possibilities of technology, and the requirements for business success."
The typical design thinking process moves through 5 steps in a linear fashion: empathize, define, ideate, prototype, and test. In this case, you'll empathize with employee groups and their families, then determine the specific benefits they need to know about and how you'll measure your success. Jill recommends mind mapping as you collect and sort information: it's a great way to "brain dump" everything onto the screen or a sheet of paper and then organize it in the most intuitive way. Begin with the central concept in the middle and then list corresponding items together in branches, spotting opportunities, relationships, and creative possibilities as they pop up.
You might organize benefits content by the support employees need during certain major life events: newly hired, getting married, moving, adopting a child, and retirement planning. Finally, you can play with visual formatting to show relationships: think about using charts and infographics.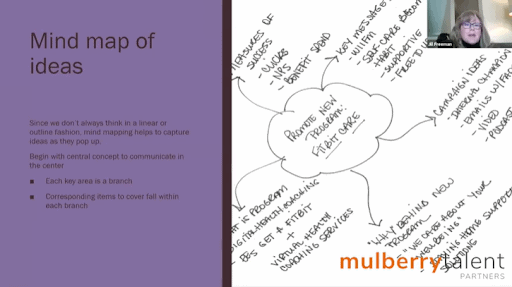 Understanding Employee Experience
Identifying your audiences is essential. Consider differences between frontline workers, your field team, your logistics team, employees' family members, and corporate office employees. What languages do they speak? What devices do they use? Tell stories about why? Did employees ask for support in a specific area? How is the company helping?
Leverage multiple tools in your communication toolbox: along with newer media like websites, videos, podcasts, and dedicated chat channels, don't forget old standards like personalized home mailers, paper handouts, and town hall meetings. Assess your options in terms of communication, cost-effectiveness, and complexity.
When Jill needed to communicate with frontline employees about safety and essential policy changes during the pandemic: some of her favorite options were videos hosted in self-service portals because podcasts are inexpensive to make, and employees can access info when needed. Some companies saw success in hosting open-channel phone calls in different time zones for highly interactive communications, and others held virtual open enrollment benefits fairs. Each medical plan representative had 20 minutes to address core information in this case. In situations like this, internal teams can help vendors pitch information that's relevant at the moment.
It's worth noting that though a lot of vendors are creating their communications, passing everything directly to all employees can create confusion. Consider hosting a virtual meeting in advance with vendors to help them get to know each other and collaborate on one cohesive strategy that's not repetitive or confusing to your team members.
Build Strong Employee Relationships from the Start
Anytime your company plans to start new recruiting efforts or you make a significant change in benefits providers, it's a good time to audit your employee benefits communications.
Ready to start connecting with candidates? Partner with Mulberry to find talent that fits your company culture well.